[/vc_row]
We talked some time back about how to read food labels AKA nutrition labels quickly.
In that particular lesson we talked about looking at the most important macro on the label which is not even listed: complex carbs.
We then are able, once we know how many complex carbs are in a food, to discern its usefulness. Say the food had complex carbs up past 20 grams – we would then save this particular food to use as post workout eating.
Otherwise, we have to classify it as junk or pre-workout.
Nutrition labels, even though they're small and have the finest of prints tell us A LOT about our eating!
Food that have higher sugars, say about 15 grams  or so would then be most likely grouped as a pre workout. This is because foods that are higher in sugar might be recruited by the working muscles to burn fat later inside a longer cardio workout.
Further, if the food is say 15 grams of sugar which equals 60 calories and is a total of 70 calories per serving, we know it's "junk food."
We can get even more detailed.
We can go ahead and define a food packed by its nutrition label as 1 serving. So, more matter what is written on the outside, I need you, like I do with all my trainees, to get used to dividing that food into ONE unit.
Per serving means NOTHING to you. Break it down to one serving!
[/vc_row]
Complex Carbs - the hidden signal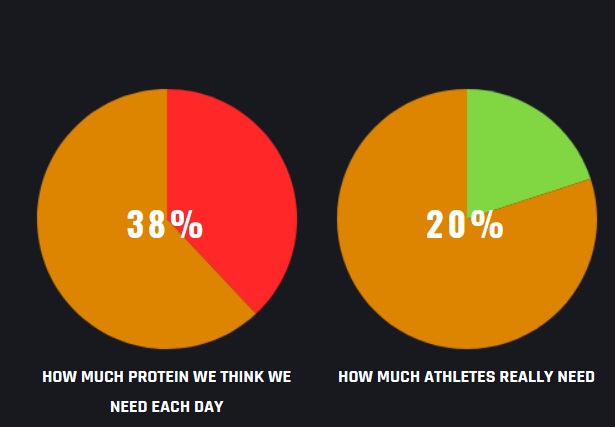 Proteins

Proteins are the macro which all others depend on.
As such, we feel we need protein in more and more quantities than can actually ever be used by our motile and able bodies. I have heard of recommendations where people actually prescribe protein ratios of 2 grams per pound of bodyweight.
Consider how expensive it is for me to get the requisite 380 grams of protein per day.
This will wreak hell on my intestine if not my wallet, day after day in the implied and still-unrealistic by bodybuilding standard perpetuity.
Instead, let's try not to be irrational stewards of health.
2 grams per kilogram or 0.8 per pound is better. In fact, let's consider percents instead.
Useful protein recommendations involve you shifting your diet to adjust proteins first. Any time you change your diet, adjust proteins first, then carbs. And, this means you will end up with a percent between 10% and 40% protein per day.
After reading the nutrition label, know protein status for your food.
Multiply by four, then know just what percent it is of your daily calories. Match this number with your daily percent allotment.
Total FAT
Similarly, fats are usually kept within a perecentage.
Quite simply, keep your fats below 30% daily. This is a recommendation nearly every sensible nutritionist and every dietician will attest. And, this is the upper limit for much you need to intake!
Quite simply read the gram about and multiply by 9 in order to get calories and make sure they are under 30%.
Further, take the amount of saturated fat inside the food and ALWAYS make sure this intake is below 10%.
POST WORKOUT
Simple Carbs ("sugars" AND FIBER)
40
PRE WORKOUT
Simple Carbs ("sugars")
80
[/vc_row]
[/vc_row]